Excursions
Pre-conference excursion: The archipelago of Stockholm – Problems and opportunities in a nearby periphery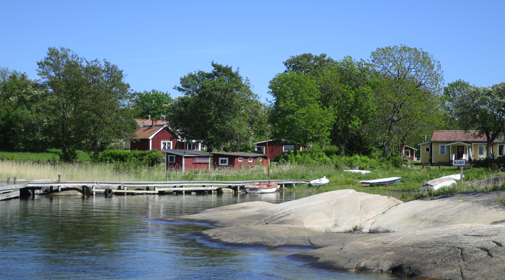 Stockholm, the capital of Sweden, has a spectacular archipelago of more than 24.000 islands and islets. A smaller number of people have their permanent residential housing in the archipelago (around 10.000) but the number of summer houses is five times as many.
The aim of the excursion is to visit one of the islands in order to get a glimpse of the time and spatial conditions and constraints related to the mutual dependency to Stockholm. We will discuss the consequences of the declining permanent living population in the area and the conflicts concerning land and water use, second homes, infrastructure etc. as well as democratic problems related to the large size of the municipalities the different islands are parts of.
Special focus will be to compare the living conditions in the archipelago with the conditions in the corresponding mainland areas. We will go by bus and ferry to the island Ljusterö, approximately 50 kilometers northeast of Stockholm. We will do shorter walks on the island and visit places that are representative for the archipelago.
Time: Sunday June 18th 2017, day time
Cost: 324 SEK (incl. VAT*)
Fully booked
The following tours are free but you may need to pay for your own transportation.
Contested urban landscapes in Stockholm
Guide: CRUSH – Critical Urban Sustainability Hub in collaboration with SIFAV
Time: 19 June, Excursion 14.15-17, Panel discussion 18-20
Place: Hökarängen and Högdalen
Meeting: 14:20 at the university subway entrance
Participation: Up to 25 participants. Please email catharina.thorn@kultvet.gu.se for registration.
This excursion will take us by public transport to two neighborhoods with different ownership structures, Hökarängen and Högdalen in southern Stockholm, where SIFAV (The South Districts Institute for Other Visions) will guide us around and talk about urban development plans, privatization of public places and its social consequences. Themes that will be addressed include renoviction, gentrification, displacement, aesthetics, organized resistance, squatting, and the privatization of public space. The excursion will end with a public debate on gentrification and resistance with some of the members of the CRUSH International Advisory Board at Cyklopen.
Children's Spaces and Places in Stockholm
Guide: Natasha Webster, Department of Human Geography, Stockholm University, Natasha.webster@humangeo.su.se
Time: June 20, 13:00 – 17:00 (approx.)
Place: Outside. Dress for the weather and good walking shoes
Meeting: 13:00 at the university subway entrance
This is an informal tour of some children's spaces developed in Stockholm. We will tour play grounds, a family hiking trail and visit a Swedish nursery to see how the nursery system works. We will also meet with Camila Lindgren and Tuula Torro at Verbala Stiger. Camilla and Tuula are two of Sweden's leaders in the development of nursery pedagogy, teacher training and policy development for Stockholm City.
Participation: Up to 20 participants. Sign-up on a first come, first serve. Please email Natasha.webster@humangeo.su.se Our speakers want to make sure your questions are answered. If you have specific questions on the Swedish nursery system practices or policies, please send them to Natasha prior to the event by Thursday June 15, 2017.
Residential segregation and congregation. External factors: discrimination and structural effects.
Guide: senior lecturer Lennart Tonell, Department of human Geography, Stockholm University
Lennart.Tonell@humangeo.su.se
Time: 20 June 9.00 – 12.00 three hours (including travel time)
Place: Rinkeby and Tensta,
Meeting: 8:50 at the university subway entrance to go to Rinkeby
What is the policy to prevent and to do something about social closure, racism, discrimination and criminality?
Study visit to Rinkeby, an urban district northwest in Stockholm municipality. The district was built in the early 1970s and consists of multi-family houses with about 15500 inhabitants. 90% have foreign descent. We will meet people who work with urban renewal (planners), with the major social problems in the district (social actions groups), politicians and civil servants from the local city administration. In smaller groups we will walk around in the neighbourhood
Past, present and future in Frescati and Northern Djurgården: Kings, sharpshooters, academics and biodiversity. (two tours)
Guide: Ulf Jansson, Department of Human Geography, Stockholm University
Ulf.Jansson@humangeo.su.se
Time: 21 June, 10.15 – 12.00.
Place: University Campus (outdoor)
Meeting: Before 10:15 and 11:15 at the Aula Magna entrance "Train station".
The area in Frescati where the university is located since the 1970's, when it was outgrowing its old buildnings in town. It is an area that have gone through many changes. It has been under different regimes since the medieval period when convent and other ecclesiastic owners controlled the area. At the reformation in the 1500's it was reinstated as royal land and it has in part been that since then. The area was a part of the royal hunting grounds and worked as a fenced in dear park hence the name Djurgården. The area had prior to the university been a place where various institutions of science have been located and granted land by the king. The royal academy of agriculture had its center here, later on the The Royal academy of sciences and the Museum of Natural history build massive houses here. Higher research of veterinary medicine and forestry were also located to the area. There has been a pressure to build end exploit more of this green area close to the expanding capital. Partly by initiative from the king the so-called ekoparken was established in 1985. In 1995 Kungliga nationalstadsparken, an urban national park was created and is now protected by law. The tour will give you a glimpse of the various aspects and historical layers and present processes in this landscape.
Cost: the excursion is free. No transportation costs
There will also be possible to arrange spontaneous excursions on spot by the reception.
Last updated: June 13, 2017
Page editor: Jennie Gustafsson
Source: Department of Human Geography