Ny doktorsavhandling: The state of tenancy
Den 4 mars, 2022, försvarade Jennie Gustafsson framgångsrikt sin avhandling "The state of tenancy: Rental housing and municipal statecraft in Malmö, Sweden" vid en offentlig disputation för filosofie doktorsexamen i geografi med inriktning mot kulturgeografi vid Samhällsvetenskapliga fakulteten, Stockholms universitet.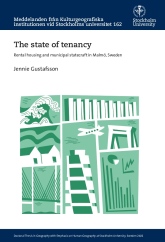 Opponent: Professor Tuna Taşan-Kok, Department of Human Geography, Planning and International Development, University of Amsterdam.
Huvudhandledare: Docent Peter Schmit, Kulturgeografiska institutionen, Stockholms universitet. Handledare: Professor Eva Andersson, Kulturgeografiska institutionen, Stockholms universitet, och professor Brett Christophers, Institutet för bostads och urbanforskning, Uppsala universitet.
Ordförande vid disputationen: Docent Ilda Lourenco Lindell, Kulturgeografiska institutionen, Stockholms universitet.
Betygsnämndens ledamöter: Professor Kenneth Tommy Nelson, Institutet för social forskning, Stockholms universitet, professor Brita Hermelin, Institutionen för kultur och samhälle, Linköpings universitet, och professor Kristina Grange, Institutionen för arkitektur och samhällsbyggnadsteknik, Chalmers tekniska högskola. Suppleant: Professor Bo Malmberg, Kulturgeografiska institutionen, Stockholms universitet.
Abstract:
Rental housing tenants in Sweden and Europe are increasingly seeing their homes subsumed to market pressures. This thesis provides empirical and conceptual insights into the processes by which market and financial practices and logics shape the housing sector, through a critical analysis of rental housing in Malmö, Sweden. The aim of the thesis is to investigate the role of rental housing within the context of municipal governance and, in turn, to explore how the relationship between rental housing and municipal governance affects residents. Empirically, the thesis focuses on developments in and around the area of Rosengård. The methods used include an interpretive analysis of official documents and secondary statistics, interviews, focus group meetings, participant observations, photos, and analysis of register data. The thesis comprises four papers and a comprehensive summary (the "kappa").
Inspired by the regulation approach to political economy, the thesis engages with theoretical literatures on trajectories of rental housing market change, the financialization of rental housing, and local-state restructuring. In demonstrating how tenants and residents are affected by municipalities' governance of rental markets, the thesis offers fresh perspectives on the nature of contemporary Swedish municipal "statecraft".
The thesis finds that mounting market pressures from the 1980s initially resulted in a relocation of Malmö's public housing stock to more attractive urban areas, and greater financial independence for the municipal housing company (MKB). In the process, the municipality used its ownership of public housing to support rebranding of the city following deindustrialization. However, more recently, the municipality has integrated management of MKB's finances into the governance of municipal finances more broadly. The thesis argues that recent examples of public housing privatization and urban renewal have seen the municipal housing stock come to function as a quasi-financial asset, one bearing local urban development-risk and signaling municipal economic flexibility to credit rating analysts. It also argues that residential property investors' local use of renovations as an investment strategy strengthens their financial position while leading to declining affordability for tenants. Residents experience increasing rent levels, worry, and a lack of influence within – and disclosure of information about – processes of renovation and privatization. Meanwhile, the thesis finds that the spatial distribution of public and private rental housing has changed as a result of municipal governance initiatives to create attractive new urban spaces, with rental tenants being increasingly marginalized.
In sum, the thesis concludes that market and financial practices and logics are progressively undermining Sweden's renowned universal housing system, while reinforcing inequality.
Nyckelord: rental housing, public housing, private rental housing, inequality, financialization, urban governance, local state, state theory, renovations, renovictions, privatization, urban planning, housing politics, regulation approach, Rosengård, Malmö.
Senast uppdaterad: 7 mars 2022
Webbredaktör: Anders Rickegård
Sidansvarig: Kulturgeografiska institutionen