Ny doktorsavhandling: Modernisation and farmer-led irrigation development in Africa
Den 14 juni, 2018, försvarade Chris de Bont framgångsrikt sin avhandling "Modernisation and farmer-led irrigation development in Africa: A study of state-farmer interactions in Tanzania" vid en offentlig disputation för filosofie doktorsexamen i geografi med inriktning mot kulturgeografi vid Samhällsvetenskapliga fakulteten, Stockholms universitet.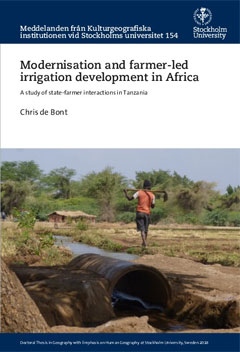 Opponent: Associate Professor Anna Mdee, University of Leeds.
Huvudhandledare: Docent Lowe Börjeson Kulturgeografiska institutionen, Stockholms universitet. Handledare: Assistant Professor Gert Jan Veldwisch, Wageninger University.
Ordförande vid disputationen: Professor Dominic Power, Kulturgeografiska institutionen, Stockholms universitet.
Betygsnämndens ledamöter: Professor Magnus Jirström, Institutionen för kulturgeografi och ekonomisk geografi, Lunds universitet, professor Annika Rabo, Socialantropologiska institutionen, Stockholms universitet, och docent Erik Green, Ekonomisk-historiska institutionen, Lunds universitet. Suppleant: Docent Anna Storm, Kulturgeografiska institutionen, Stockholms universitet.
Abstract: After years of relatively low investment, irrigation development in Africa has been put back on the policy agenda as a way of increasing agricultural productivity. In spite of existing evidence of farmers' irrigation initiatives across the African continent, current policy prescriptions still revolve around (large-scale) state intervention. Farmers' irrigation initiatives are generally considered traditional, backward, and unable to contribute to the agrarian transformation that many African nations are after.
This study aims to problematize this narrow notion of farmers' irrigation initiatives, and explores how underlying ideas of modernity/modernisation influence irrigation policies and interactions between farmers and the state. Focusing on Tanzania, this thesis consists of an introductory chapter and three separate studies.
The first study is a historical analysis of the state's attitude towards irrigation development and farmers' irrigation initiatives in Tanzania. It shows how historically, the development narrative of 'modern' irrigation as a driver for agricultural transformation has been successful in depoliticizing irrigation interventions and their actual contribution to development.
The second study engages with a case where farmers have developed groundwater irrigation. The study analyses how differentiated access to capital leads to different modes of irrigated agricultural production, and shows the variation between and within farmers' irrigation initiatives. It also illustrates how an irrigation area that does not conform to the traditional/modern policy dichotomy is invisible to the government.
The third study concerns a farmer-initiated gravity-fed earthen canal system. It shows how the implementation of a demand-driven irrigation development policy model can (inadvertently), through self-disciplining by farmers and a persistent shared modernisation aspiration, turn a scheme initiated and managed by farmers into a government-managed scheme, without actually improving irrigation practices.
Together, these studies show how modernisation thinking has pervaded irrigation development policy and practice in Tanzania, influencing both the state's and farmers' actions and attitudes, often to the detriment of farmers' irrigation initiatives.
Nyckelord: irrigation development, modernity, modernisation, farmer-led irrigation development, expert knowledge, Tanzania, sub-Saharan Africa.
Senast uppdaterad: 19 juni 2018
Webbredaktör: Anders Rickegård
Sidansvarig: Kulturgeografiska institutionen