Many migrants remain in the same type of neighbourhood as they first settled in
The kind of neighbourhood or region that refugees and other migrants first settle in is often where they remain – even when they settled in relatively poor neighbourhoods and smaller municipalities. This is a result from a new dissertation in Human Geography from Stockholm University, which contradicts a common theory about migrants' residential mobility.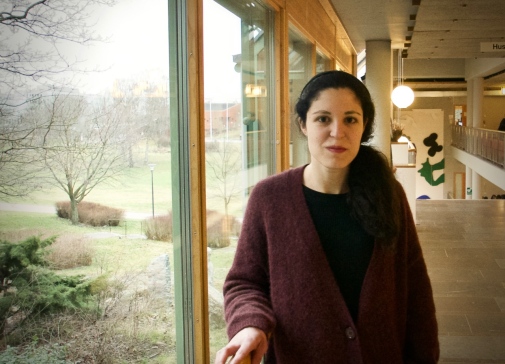 "We can now see that many remain in the same type of neighbourhood as they first settled in, and they do not relocate to areas with a higher socio-economic status, like we have thought before" says Louisa Vogiazides, newly promoted Ph. D. in Human Geography at the Stockholm University.
More than 80 per cent of the people who moved to Sweden in 2003 stayed in a similar area to the one they first settled in – and they remained there for their first nine years in the country. Over 60 per cent of those who lived in relatively deprived neighbourhoods remained in such neighbourhoods, and only around 12 per cent moved from a deprived neighbourhood to a middle-income or affluent area during that period. These are results from one of the studies in Louisa Vogiazides' dissertation.
More mobility during the migrants' first years in Sweden

Her dissertation examined the long-term internal migration patterns of international migrants in Sweden, and particularly refugees. In two studies, written together with the researchers Guilherme Chihaya and Hernan Mondani, she analysed migrants' residential trajectories during their first decade in Sweden. The focus was placed on the duration of stay in different types of neighbourhoods or regions.
"Stability is the word that best describes migrants' residential patterns. There is some mobility between areas of the same type, or within the same type of region, for example between two deprived neighbourhoods or between two rural areas. But as time goes by, migrants seldom change their type of neighbourhood or region.
Individuals are more mobile during their first years in Sweden. But over time, people tend to consistently reside in the same type of neighbourhood." says Louisa Vogiazides.
Many prefer to live with fellow countrymen

These results contradict a common theory within the research field, saying that migrants initially settle in deprived and minority-dense areas and later relocate to more affluent areas as they adapt to their host society and their socioeconomic position improves, the so-called spatial assimilation theory.
Based on previous research, there are different possible explanations to why most migrants tend to remain in the same type of neighbourhoods, Louisa Vogiazides says.
"Longstanding residence in deprived, and often immigrant-dense, neighbourhoods can be a result of discrimination in the housing market preventing migrants from settling in higher status neighbourhoods. But it may also be the case that migrants prefer to reside close to their fellow countrymen and other migrants. There simply are advantages in living in ethnic neighbourhoods" she says.
Politic affect wherer migrants settle

Besides studying all migrants moving to Sweden in a single year, Louisa Vogiazides analysed the geographical trajectories of refugees, comparing two different groups: refugees who came in the early 1990s, when a strategy to geographically disperse refugees across Swedish municipalities was being implemented, and a later group who had the possibility to choose where to settle in the country.
"Many people who were assigned housing by the authorities were placed in small city or rural regions, and a large part of them remained in the same type of region for a long period, even though migrants generally tend to live in bigger cities" says Louisa Vogiazides
"This indicates that the refugee settlement policy has long-term consequences" she says.
How the studies were made
Both studies use register data from Statistics Sweden. The studies follow the residential career of newly arrived migrants during the first eight/nine years after they received their residence permit in Sweden. Both studies use "sequence analysis", a method for identifying patterns in data over time. The method analyses processes as a series of states, for example residential stays in different types of neighbourhoods and regions. By using this method of analysis, typical housing careers can be identified and analysed.
The first study analysed the mobility of 15 000 international migrants between neighbourhoods with different socio-economic levels during the period 2004-2012. It used register data from Statistics Sweden. The individuals in the study migrated to Sweden in 2003 and were in the ages of 25 to 55 when they arrived. Neighborhoods were categorized in different socio-economic levels based on the proportion of individuals' nearest neighbouring households that were at risk of poverty. A household is considered at risk of poverty if its disposable is below 60 per cent of the median household income in the country.
The second study on inter-regional migration uses register data from Statistics Sweden for two groups of refugees: Those who arrived in Sweden in the period 1990-93 and those who came between 2005 and 2009. The data consists of around 80 000 individuals who were in the age 18-58 when they arrived. The study followed their residential pathways during an eight-year period. Regions corresponded to Statistics Sweden's classification of local labour markets, which is based on commuting flows. The study distinguished between five types of region: Stockholm, Gothenburg, Malmö, (the three metropolitan regions), regions with a large city, and regions with a small city or rural areas.

Read more about the research:
Vogiazides Louisa (2020) Pathways and destinations: Spatial mobility and socioeconomic integration of international migrants in Sweden
Contact:
Louisa Vogiazides, Ph.D. in Human Geography, Department of Human Geography , Stockholm university. Email: louisa.vogiazides@humangeo.su.se