Library
In the Stockholm University Library there are books and journals including in geography, human geography and urban and regional planning.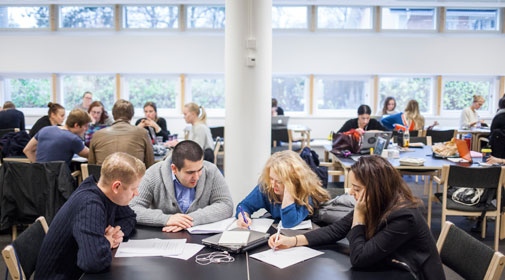 There are small rooms for team work, computer and reading places. Library tours are advertised in the Library; students in the first semester are recommended to attend.
The Frescati Library (the main library) is situated a couple of minutes walk from the Geo-Science Building. Stockholm University students use the University card as a library card. To get a card you must be registered.
Journals
There is extensive research in geography, human geography, and urban and regional planning. This is largely reported in scientific journals. The list below is a selection of them but there are many more. As a student at Stockholm University you can access them free of charge through the Stockholm University Library website click on "e-journals" and find your way to your choice. Some of the journals are also available in paper format.
Examples of journals in geography and human geography
Annals of the Association of American Geographers
Antipode: a radical journal of geography
Applied Geography
Cultural geographies
Economic Geography
Gender, Place & Culture: A Journal of Feminist Geography
Geografiska Annaler, Series B, Human Geography
Geografiska Notiser
Geografisk Tidsskrift – Danish Journal of Geography
Geography teacher
Global Environmental Change
International Journal of Geographical Information Science
Journal of Economic Geography
Norsk Geografisk Tidsskrift – Norwegian Journal of Geography
Professional Geographer
Progress in Human Geography
The Geographical Journal
Transactions of the Institute of British Geographers
Examples of journals in urban and regional planning
Cities
Environment and planning, A
Environment and planning, B: Planning and Design
Environment and planning, C: Government and Policy
Environment and planning, D: Society & Space
European Planning Studies
International Development Planning Review's
International Planning Studies
Journal of Environmental Policy and Planning
Journal of Planning Education and Research
Journal of Planning History
Planning Perspectives
Planning, practice & research
Planning Theory
Planning Theory & Practice
Progress in planning
More libraries
In Stockholm there are a number of large and small libraries including the Royal Library (the National Library of Sweden), the Riksdag Library (the library of the Swedish Parliament) and the City of Stockholm Library.
Last updated: June 19, 2018
Page editor: Anders Rickegård
Source: Department of Human Geography