Research seminar: Ambiguous Play
EVENT
Date:
26 November 2019, 1.00 PM
-
26 November 2019, 2.30 PM
Ambiguous Play: Re-Thinking Encounters in London Allotment, Community and Guerrilla Gardens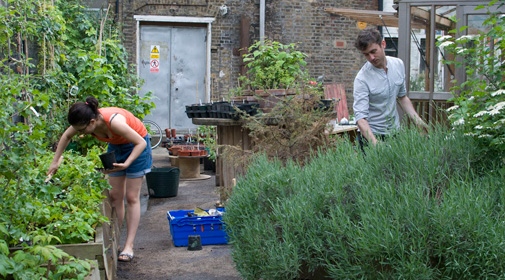 This talk examines the potential of allotment, community and guerrilla gardens to cultivate socialities in cities amongst strangers, passers-by, volunteers, and neighbours. By looking at the taking care of plants in cities, it aims to rethink encounters as sites of play, as well as work. The talk builds upon on Ahmed's (2000) critical notion of the encounter as embodied, as a meeting that involves both surprise and conflict, and Massey's (2005) conception of urban spaces as being constituted by a 'throwntogetherness', an ongoing process of negotiating unequal and conflicting social relations. This ethnographic study of allotment, community and guerrilla gardens in London provides insights into how social relations are made and unmade across species that are 'thrown together' in these spaces and it introduces two forms of encounters: festive and chance.
Vignettes from a harvest festival, a Halloween pumpkin carving workshop, and a guerrilla garden dig, demonstrate that festive encounters produce intense socialities, have a distinctive temporality, and transform spaces, which all allude to ideas of play. Yet, these observations also contest the apparent standstill of ordinary life (Huizinga, 1950) and the enjoyable, non-instrumental sociability (Simmel, 1949), as they show that these festive encounters are not always without friction, and that they can slip into instrumentalised forms of interaction informed by professional interests. This ambiguity of play is then further explored in chance encounters taking place at the gardens. Instead of blocking themselves off, gardeners open themselves up to the contingencies of practicing gardening in public spaces. They enjoy bumping into strangers, interacting with passers-by and eavesdropping on others. In their spontaneous and fleeting encounters gardeners perform a playful disposition. This playfulness, however, is also being challenged as some chance encounters are inflicted by reductive gender roles, normative sexualities and racism.
In the talk, notions of play as produced in encounters become increasingly contested and challenged, from which a more ambiguous idea of play emerges. Notwithstanding the ambiguities of play, this study demonstrates that urban gardens can create generous and generative spaces for meeting others, and that this is all the more prescient within a contested, fragmented, global city as London.
Bio: Jan van Duppen is a cultural geographer at the Open University, Milton Keynes, UK. His research focuses on encounters in the public realm, play and work in post-industrial societies, participatory design, mobility and travel, and digital and visual cultures. In his current ESRC postdoctoral research fellowship, Jan discusses urban gardens as paradoxical spaces of play and work and examines their potential for contributing to sustainable urban futures.
Time: November 26, 2019, at 13:00−14:30.
Venue: Seminar room X308, the Geo-Science Building (Geovetenskapens hus), Frescati.
Presenter: Jan van Duppen, School of Social Sciences & Global Studies, The Open University.
Organizer: Department of Human Geography, Stockholm University.
Last updated: November 14, 2019
Page editor: Anders Rickegård
Source: Department of Human Geography