Find us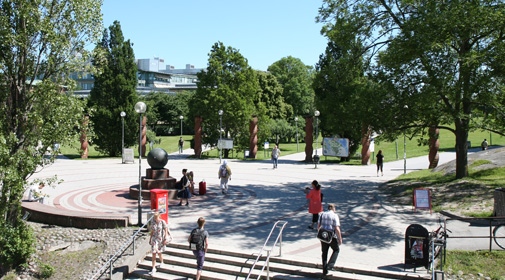 The Geo-Science Building from the underground station. The building appears behind the trees to the left in the upper part of the picture.
The Department is located in the Geo-Science Building (in Swedish "Geovetenskapens hus") – within the northern part of campus Frescati at northern Djurgården in the City of Stockholm, Sweden. The main entrances (Svante Arrhenius väg 8, 12 och 14) are found at the south side of the building.
Underground
The red underground line (number 14) from "Fruängen", passing "T-Centralen", bound for "Mörby centrum", will take you to the station "Universitetet". It is an eight-minute journey from T-Centralen, the underground station at the Stockholm main railway station. If you walk straight ahead from the underground exit you will find the green Geo-Science Building on the left side 120 meters north-east from station.
Train
"Roslagsbanan" suburban train from "Östra station", the Stockholm eastern station (or some other stop), will take you to the halt "Universitetet". The Geo-Science Building is situated 300 meters east of the halt. Walk up to the bridge over the tracks and carry on to the right.
Bus
The closest bus stop is "Universitet Norra" (at the underground station, 100 meters west of the Geo-Science Building). The bus routes are: 40 (from a number of stops including Reimersholme, Fridhemsplan (underground), Odenplan (underground), Sveaplan and Stora Lappkärrsberget), 70 (Frösundavik, Odenplan (underground) and Sveaplan), 540 (Tensta (underground) and Ulriksdals station (commuter train)), 608 (Vallentuna and Arninge), 670 (Vaxholm) and 676 (Norrtälje).
Car
You can drive to the Frescati campus using Roslagsvägen (E18 road from "Roslagstull" towards "Norrtälje" or the other way around), Frescativägen and Svante Arrhenius väg. Parking (fee) is available at Svante Arrhenius väg (the road south of the Swedish Museum of Natural History, nearby Frescatihallen sports centre just north of the Geo-Science Buildning) and south of the Södra huset, the south block. During the construction of Norra länken, the northern link motorway, there are temporary detours.
Bike or walk
There are a number of bike and walk paths; for example alongside the Brunnsviken (bay), along the Roslagsvägen (road) or through the Lill-Jans skogen (wood/park).
Campus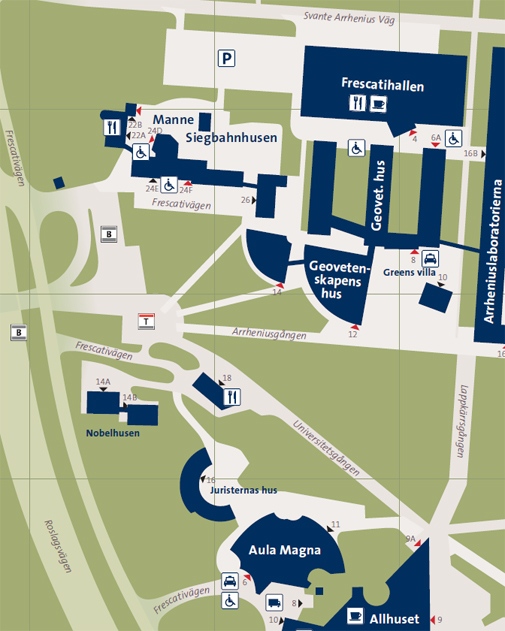 Last updated: July 1, 2011
Page editor: Anders Rickegård
Source: Department of Human Geography